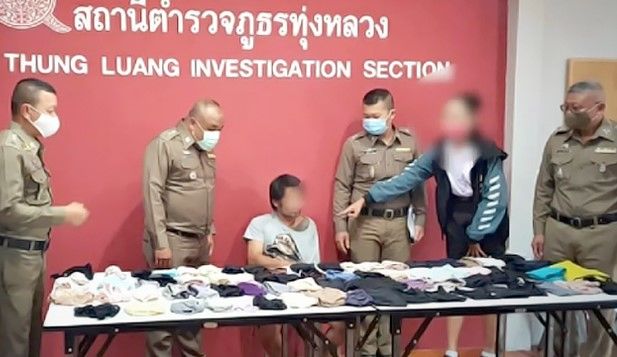 3000 fans
Al 10 jaar de beste weblog.Ook in het Engels.
Ze kunnen niet meer om ons heen.
Een bijdrage van Heintje  de kruizensnuiver.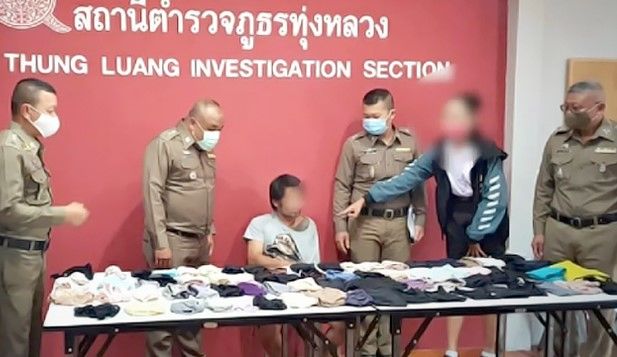 A 46 year old man has been arrested for allegedly breaking into homes and stealing women's underwear. Police say they found 70 pairs of panties and 3 bras at his house in Ratchaburi, a province west of Bangkok bordering Myanmar. Police also found some methamphetamine and amphetamine pills at the man's home, charging him with both theft and drug possession.
The man, identified as Chaiphat, allegedly told police he stole the underwear because he was lonely and he liked to smell them while stimulating himself. His wife of 10 years had left him, Chaiphat says.
Just 2 women reported to police about their missing panties. But by the amount of women's panties found at the man's home, police say they suspect he made about 20 robberies, but Chaiphat allegedly claims it was just "a few times".
"Two women had filed complaints with the station that a thief had broken into their homes and stolen their underwear, so we tracked down the suspect to his house and arrested him."
If any women are missing their underwear, police ask that they check the evidence at the Thung Luang Police Station.
Thanks to the sponsors.
WAWA toers  vip bus met chauffeur

       poolbiljart Meetingpoint Sampan Udonthani
Vooral uw PC problemen 2e Floor Central Plaza
Resort and swimmingpool and Fishing pool
Bed and Breakfast Honnybee 400 thb  for 1 night .
Leeya resort swimming and fishing.
Gold filler  jksuradee chonburie
Kamer huur per dag,per maand per uur .Honnybee Soi Donudom Udonthani
Bemiddeling  bij koop of verkoop goederen via  gratis advertentie op deze weblog.
Indien u ook een sponsor wil worden dan hier infomeren.
lowy.cremers.senior@gmail.com
ludovicuswcremers80@gmail.com
0
0
Lowy Cremers
Lowy Cremers
2020-10-29 03:31:24
2020-10-29 03:55:08
Je maakt wat meeinThailand. Heintje de kruizen snuiver .