Thai man in Surin greeted by crocodile in his toilet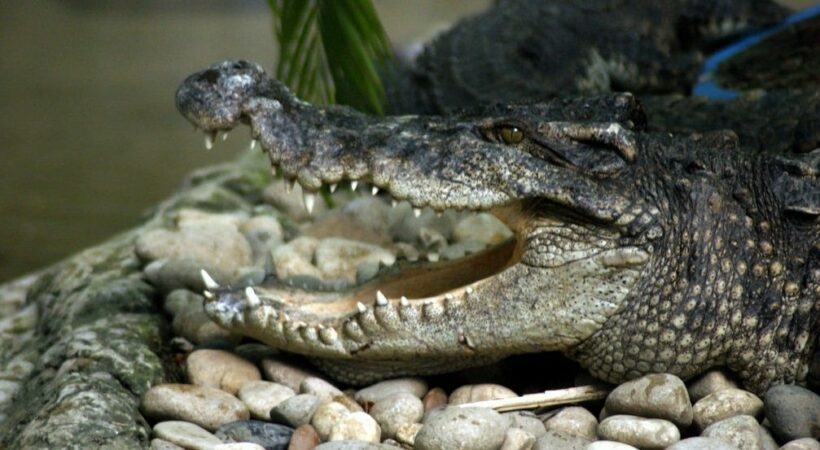 Al 10 jaar de beste weblog.
3000 fans.FB.Instagram.Twitter.TikTok en eigen youtube kanaal.
De website ook in het Engels.
Ze kunnen niet meer om ons heen.
Een bijdrage van onze  fan De Dikke Crocodil.
Verrassing! Een Thaise man in de provincie Surin werd begroet door een onverwachte bezoeker toen hij vroeg in de ochtend een toiletpauze nam. De man, de 52-jarige Korn Yudirom, zegt dat hij om 3 uur 's ochtends opstond om naar het toilet te gaan, dat zich apart van zijn hoofdverblijf bevindt. De man dacht dat er water in het toilet was blijven lopen, nadat hij geluiden had gehoord nadat hij was vertrokken, maar het bleken geluiden van een krokodil te zijn.
Het geluid werd steeds luider toen hij het toilet naderde, wat hem ertoe aanzette het huis rond te kijken. Daar zei hij dat hij de krokodil ontmoette, met zijn mond open, dreigende geluiden makend (sorry, we hebben geen opname).
Bij het zeldzame incident, dat gisteren plaatsvond in het district Prasat in de noordoostelijke provincie Surin, waarschuwde Korn zijn familieleden om getuige te zijn van de onooglijke scène terwijl hij om hulp riep. Een reddingsteam werd gestuurd om de 2 meter lange krokodil van 80 kilo, die zich met open mond onder een bed verstopte, te verwijderen.
Maar de missie was niet gemakkelijk omdat reddingswerkers zeiden dat hun "speciale uitrusting" niet helemaal geschikt was voor het beoogde doel en ze niet konden vangen voordat het in een nabijgelegen vijver zwom. Ten slotte vingen ze het op en bonden zijn mond dicht.
Na enig onderzoek zegt Korn dat de krokodil ongeveer 300 meter verderop uit zijn huis is ontsnapt. Reddingswerkers zeggen dat de krokodil naar zijn huis is teruggestuurd nadat hij was gevangen.
XXXXXXXXXXXXXXXXXXXXXXXXXXXXXX
Inglish weblog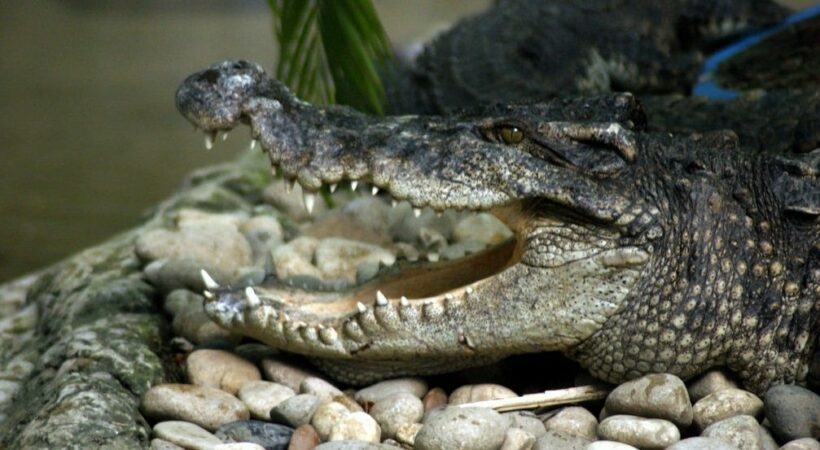 Surprise! A Thai man in Surin province was greeted by an unexpected visitor as he took an early morning toilet break. The man, 52 year old Korn Yudirom, says he got up at 3am to use the toilet, which is located separately from his main home. The man thought water was left running in the toilet, after hearing noises after he left, but it turned out to be noises from a crocodile.
The noises grew louder as he approached the toilet which prompted him to check around the house. It was there that he says he met the crocodile, with its mouth open, making threatening sounds (sorry we don't have a recording).
The rare incident, which happened yesterday in the Prasat District of Thailand's northeast Surin province, had Korn alerting his relatives to witness the unsightly scene while calling for help. A rescue team was sent in to remove the 2 metre, 80 kilogram crocodile, which was hiding under a bed with its mouth still open.
But the mission was not easy as rescue workers say their "special equipment" wasn't quite fit for purpose and were unable to catch it before it swam into a nearby pond. Finally, they caught it and tied its mouth shut.
After some investigating, Korn says the crocodile escaped from its home about 300 metres away. Rescue workers say the crocodile was sent back to its home after it was caught.
Thanks to the sponsors.
WAWA toers  vip bus met chauffeur


       poolbiljart Meetingpoint Sampan Udonthani

Vooral uw PC problemen 2e Floor Central Plaza

Resort and swimmingpool and Fishing pool

Bed and Breakfast Honnybee 400 thb  for 1 night .

Leeya resort swimming and fishing.

Gold filler  jksuradee chonburie

Kamer huur per dag,per maand per uur .Honnybee Soi Donudom Udonthani

Bemiddeling  bij koop of verkoop goederen via  gratis advertentie op deze weblog.

Indien u ook een sponsor wil worden dan hier infomeren.

lowy.cremers.senior@gmail.com

lowy.cremers.senior@gmail.com
0
0
Lowy Cremers
Lowy Cremers
2020-11-21 14:14:18
2020-11-21 14:33:47
de krokodil is naar zijn huis is teruggestuurd, Thai man in Surin greeted by crocodile