30.000  covid infections in Thaise bajes.

3000 fans/volgers
Weblog in Inglish
Ze kunnen niet meer om ons heen.
Een verslag van onze  man in Bangkok  AlCapone.
THAILAND Bijna 30.000 Covid-19-infecties in Thaise gevangenissen in recente golfTanutam ThawanGepubliceerd 12 uur geleden op dinsdag 8 juni 2021Door Tanutam Thawan Chiang Mai-gevangenis / Foto via Afdeling Correcties ประชาสัมพันธ์ ประชาสัมพันธ์Volg ons in feedly Bijna 30.000 mensen in Thaise gevangenissen hebben positief getest op Covid-19 in de laatste golf van infecties. Volgens het Department of Corrections zijn er nu 13.392 actieve gevallen van coronavirus in 12 correctionele instellingen in Thailand. Er zijn vandaag 534 nieuwe gevallen en 3 coronavirusgerelateerde sterfgevallen in gevangenissen gemeld. In de laatste golf van infecties in Thailand zijn 29.734 gevallen ontdekt in gevangenissen en zijn 21 van die patiënten overleden. Het is onduidelijk of bewakers en gevangenispersoneel die positief testen op het virus in de cijfers zijn opgenomen.
De afdeling merkt op dat 126 gevangenissen in Thailand Covid-vrij zijn. In de centrale gevangenis van Nakhon Ratchasima in de regio Isaan gaf gouverneur Kobchai Boon-orana een persconferentie waarin hij aankondigde dat 6 van de gevangenissen in de regio Covid-vrij zijn. Om de verspreiding van Covid-19 te voorkomen, zijn bezoeken opgeschort en moet al het gevangenispersoneel in de provincie elke 14 dagen op Covid-19 worden getest, hoewel de meeste functionarissen zijn gevaccineerd. De gouverneur voegde eraan toe dat nieuwe gevangenen en gevangenen die de gevangenis hebben verlaten voor rechtszittingen of medische behandeling, 14 dagen in quarantaine moeten voordat ze bij de algemene gevangenispopulatie worden geplaatst. Vorige maand kondigde het Department of Corrections aan dat meer dan 2.000 gevangenen in de Bangkok Remand Prison en Central Women's Correctional Institution positief waren getest op Covid-19. De aankondiging volgde op het nieuws dat een pro-democratische protestleider positief testte op het virus nadat ze was vrijgelaten uit de vrouwengevangenis waar ze in de rechtbank werd vastgehouden in afwachting van haar proces wegens majesteitsschennis
XXXXXXXXXXXXXXXXXXXXXXXXXXXXXXX
Udonthaniweblog  in Inglish.
Near 30.00 Covid-19 infections at Thai prisons in recent wave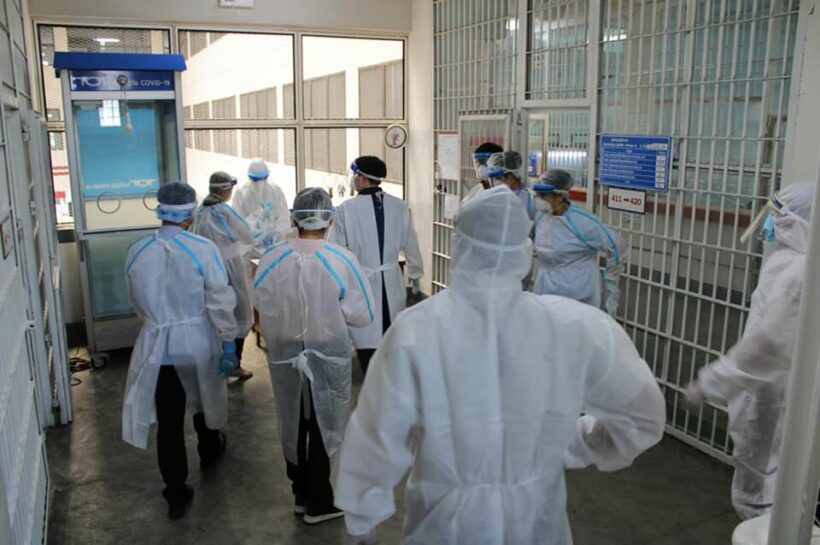 Nearly 30,000 people at Thai prisons have tested positive for Covid-19 in the latest wave of infections. There are now 13,392 active coronavirus cases at 12 correctional facilities in Thailand, according to the Department of Corrections. 534 new cases and 3 coronavirus-related deaths at prisons were reported today.In the latest wave of infections in Thailand, 29,734 cases have been detected in prisons and 21 of those patients have died. It is unclear if guards and prison staff who test positive for the virus are included in the numbers.
The department notes that 126 prisons in Thailand are Covid-free. At the Nakhon Ratchasima Central Prison in the Isaan region, governor Kobchai Boon-orana gave a press conference announcing that 6 of the prisons in the region are Covid-free.
To prevent the spread of Covid-19, visits have been suspended and all prison staff in the province must be tested for Covid-19 every 14 days, although most of the officials have been vaccinated. The governor added that new inmates and inmates who have left prison grounds for court hearings or medical treatment need to quarantine for 14 days before being placed among the general prison population.
Last month, the Department of Corrections announced that more than 2,000 inmates at the Bangkok Remand Prison and Central Women's Correctional Institution had tested positive for Covid-19. The announcement followed news that a pro-democracy protest leader tested positive for the virus after she was released from the women's jail where she was held in court detention awaiting trial for lese majeste charges.
Thanks to our Sponsors.
Apartment in Udonthani Chanin Chanok Place/
lowy.cremers.senior@gmail.com
                                    udonthanicityweblog@gmail.com
                                           

Chanin Chanok soi donudom Udontani
hani
WAWA toers  vip bus met chauffeur
       poolbiljart Meetingpoint Sampan Udonthani

Vooral uw PC problemen 2e Floor Central Plaza

Resort and swimmingpool and Fishing pool

Bed and Breakfast Honnybee 400 thb  for 1 night .

Leeya resort swimming and fishing.

Gold filler  jksuradee chonburie

Kamer huur per dag,per maand per uur .Honnybee Soi Donudom Udonthani

Bemiddeling  bij koop of verkoop goederen via  gratis advertentie op deze weblog.

Indien u ook een sponsor wil worden dan hier infomeren.

udonthanicityweblog@gmail.com
0
0
Lowy Cremers
Lowy Cremers
2021-06-09 01:05:19
2021-06-10 02:18:13
30.000 covid-19 infections at Thai prisons. Het is uit het leven gegrepen Nr 163